Case Management Software for a Mission-Driven Public Defender
Kalamazoo Defender is unique in their holistic approach to serving clients in need of public defense services. As a mission-driven public defender's office, it's essential to not just represent their clients, but to tell a compelling story on the impact they are having.
To help craft their narrative, the agency sought a case management system with robust reporting and detailed outcomes. The system needed to be flexible and configurable, making it simple for staff to quickly enter data, with built-in intelligence to track all the tasks involved with providing a high level of service. That's why they chose LegalServer.

Facilitating Teamwork
Kalamazoo County, Michigan (population: 265,000) has high demand for public defense services. Kalamazoo Defender's team responds to the community's needs with 22 staff attorneys working with a team of paralegals, social workers, and investigators - so communication and speed are essential.
"LegalServer has streamlined our communications through request for service forms, case notes, and alerts," says Sharon Brown, Director of Operations at Kalamazoo Defender. "It's easy for anyone to pull up a client file and quickly be caught up on where things are with the case."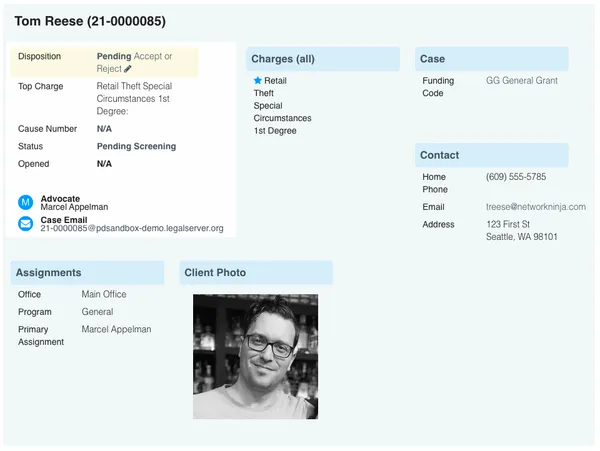 Compliance is Key
The Michigan Indigent Defense Commission requires regular reporting, including proof that public defense cases are being managed independent from the judiciary. The process of generating reports for our funders was difficult before, but not anymore, according to Brown.
"We're required to provide detailed quarterly reporting to verify that we are meeting the standards of our service agreement," she notes. "LegalServer has allowed us to set up reports that pull all the data we need at the click of a button, creating greater accuracy while saving hours in manual counting for our documentation each quarter."
Public defenders have enough to worry about - let LegalServer do the heavy lifting so you can focus on serving your clients. An online demo is just a click away.