Lubbock Private Defenders Office Thrives with LegalServer
Each day, the Lubbock Private Defenders Office (LPDO) works to ensure the effective administration of fair justice to the citizens of Lubbock County, Texas.
Back in 2019, LPDO realized they were at a crossroads with their case management system: they'd either need to attempt to upgrade the system, or consider something new.
As a 501© non-profit corporation, LPDO had very specific reports they needed to provide to their funders. Reporting on case outcomes was also a big requirement, which their former vendor couldn't provide - even with an upgrade. LPDO also wanted to move to a cloud-based system, and escape the overhead of having to maintain their own local servers.
That's why they made the move to LegalServer - and the transition was seamless.

Since their old system could only run locally, LPDO advocates couldn't access client data via a mobile device, or while out of the office. Now, attorneys can quickly see important information from wherever they may be working.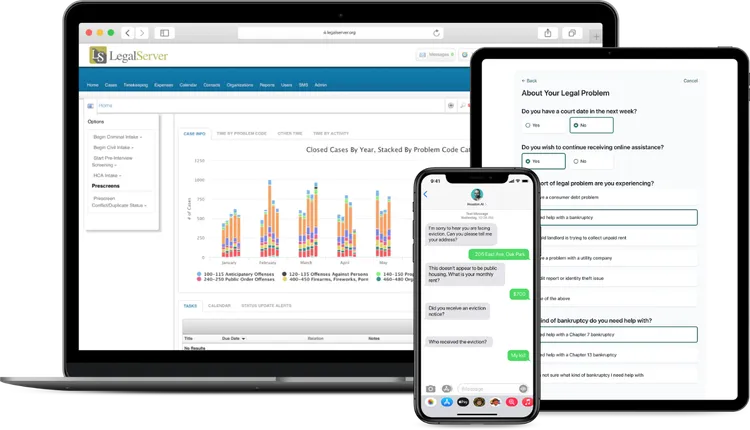 ]
"With LegalServer we can now communicate internally more effectively and collaboratively," says LPDO Executive Director Shannon Evans. "We have automated our intake forms, which benefits reporting demographics and keeps everything streamlined within the site. It's a huge improvement to have staff on the same page managing cases and follow-ups."
Recently, LPDO was tasked with taking over Operation Lone Star, a project in response to the Texas Governor's Disaster Declaration at the southern border. LegalServer's onboarding team quickly got to work, and adapted LPDO's application to support that project as well.
"LegalServer was able to quickly generate an entire new site for Operation Lone Star case management," Evans notes. "We had an expedited go-live date and were able to start using it immediately."
With enhanced reporting, mobile support, and fast onboarding, LPDO is better able to serve indigent clients in their community.
Book a LegalServer demo today to see how smarter case management software can impact your organization.