LegalServer Feature
Customized Case Management
LegalServer is a highly configurable web-based platform that dynamically responds to the complex, rapidly changing challenges of providing quality, effective advocacy.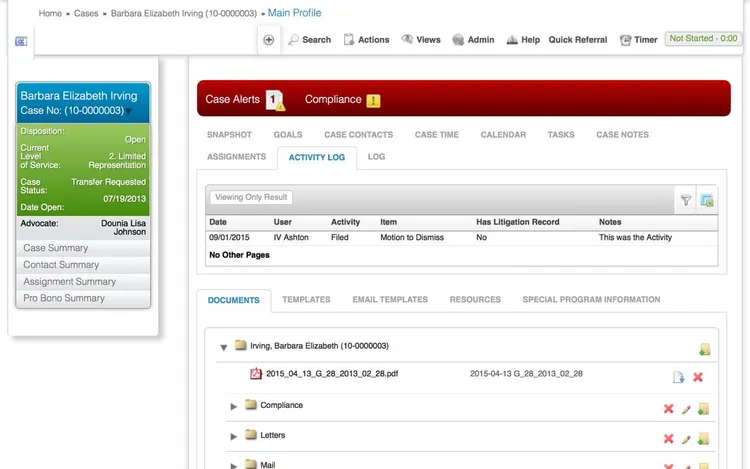 LegalServer's intuitive web interface provides many modules to manage all aspects of a case. A comprehensive suite of tools gives you the flexibility to customize case management to fit your organization's needs.
Built with an intelligent interface design, including branch logic, information is presented in a way that encourages accurate data entry and pleasant interaction for optimal usability.
Users are presented on their homepage all open cases, tasks, events, reports etc. in a user friendly manner to optimize managing daily work. Staff can easily add or update information pertaining to a case, individual, or event.
View case summary and case notes in a user friendly format
Built-in reporting to graphically see any data entered in the system
Measure case outcomes and financial benefits
Automate workflow by utilizing activity presets to create events, tasks, deadlines and outcomes based on activity entry
Improve visibility into attorney workloads
Categorize cases by subject matter and easily assign cases
Within a case see documents, video and audio files, and emails
Email to or from a case with a unique email assigned to each case
Access case information and documents regardless of location (court, home, office) on any device (phone, tablet, computer)
We help configure to the way you need to operate, improving process
Legalserver's ease of use is impressive.
We've customized our Home Page for work groups to see specific information pertinent to their cases. Built-in reports are configured precisely to the data elements we need to provide funders, managers, and staff.