LegalServer Feature
Client Intake & Qualification
LegalServer includes tools for client intake and qualification that can be configured to best match your specific data entry workflow and processes.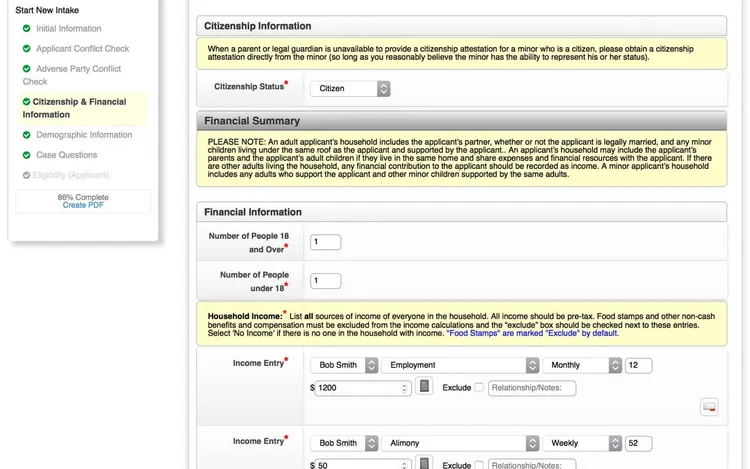 During Onboarding we will work closely with you to configure LegalServer to your desired intake process.
Users are presented with only the relevant information pertaining to a specific type of case as needed for data collection and reporting.
Adapt LegalServer to your workflow and process, making the system easier to use and quicker to train users. Branch logic configurations help in asking for data that is relevant based on what the user has already entered.
Optional online intake with language translation capability can be added to an existing public website.
Dynamic client/case intake
Prescreen allows for a pre-eligibility check before starting an actual intake process
Dynamic branch logic guides the user through automated decision tree
Centralized conflict search on clients, adverse parties, and non-adverse parties
Conflict checking includes looks like/sounds like searching and a nickname database
Capture anything pertaining to a case and required reporting
Quickly determine client eligibility & qualification
Help text to guide a user through process
Address confirmation with the US Postal Service Address Validation API
Caseworkers are benefiting from having the poverty level assessment tool and the conflict check function. These features expedite processes we were previously doing manually.
LegalServer's Online Intake is fantastic!