Disability Rights Case Management with a Statewide Protection & Advocacy (P&A) Agency
Established in 1977, Disability Rights Florida (DRF) is the statewide Protection and Advocacy (P&A) agency for individuals with disabilities in the State of Florida. The non-profit's mission is "to advance the quality of life, dignity, equality, self-determination, and freedom of choice of persons with disabilities through collaboration, education, advocacy, as well as legal and legislative strategies."
With multiple funders regularly requesting new data be collected, DRF was in need of a new case management system that would allow for real time editing of forms and fields without relying on the software provider or needing a software developer. With extensive use already throughout the state of Florida, LegalServer was chosen as the case management solution for DRF. Leveraging many existing LegalServer capabilities, DRF's dedicated site admins worked closely with LegalServer staff during onboarding to create customized tools that meet the unique needs of the Florida P&A.
DRF site administrators now have full control over their case management system, and can configure funder-specific forms and fields to guide intake users through a streamlined process based on the data collection needs of each of eight federally-funded programs (PADD, CAP, PAIMI, PAIR, PAAT, PABSS, PATBI, PAVA). LegalServer's robust reporting tools further allow admins to create funder-based reports, as well as their own agency-specific administrative reports to track user time, see overall case statistics, and provide crucial agency data about the day-to-day operations of its advocates.
More P&A-specific tools and features that DRF helped spearhead include:
Filtered Dropdown Block
The filtered dropdown block allows site administrators to determine which field values should display for front-end users based on the selected funder. Users will therefore only see permitted choices for fields such as an individual's disability, living arrangement, legal issue, etc., based on that chosen funding code.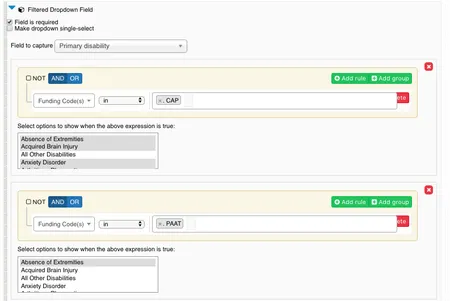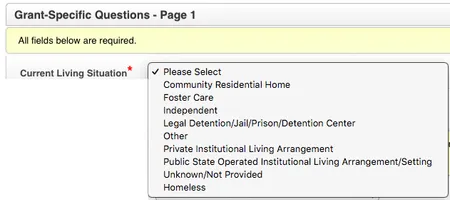 Priorities and Objectives Block
This newly-developed tool lets users select agency-specific Priorities and Objectives, filtered by funding source, allowing a P&A agency to better track their annual Goals, Priorities, & Objectives.
Enhanced Functionality for Outreaches and Projects
LegalServer worked with DRF to increase the functionality of the Outreaches module to better meet the needs of the various Projects that a P&A agency works on. It's now possible to assign teams to outreaches, assign a primary assignment to a given Outreach, and to adjust timekeeping permissions for these records as well.
A special thank-you goes out to the hardworking and dedicated administrators at Disability Rights Florida! With their help, dedication, and expertise, the LegalServer team has been able to create and improve many aspects of our platform to better meet the needs of a statewide Protection & Advocacy agency to better facilitate the crucial work that they do.
If you'd like to contribute to helping Florida's disabled achieve their goals, consider a donation to DRF.