NYC Public Defender Says Goodbye to Paper Files
Founded in 1997, New York County Defender Services (NYCDS) is a public defense firm that provides legal representation to clients accused of crimes in Manhattan. With 77 attorneys and over 60 specialized staff, NYCDS serves New York City's most vulnerable communities with holistic and rigorous support - both inside and outside of the courtroom.
Until recently, each case at NYCDS had a physical folder that lived in an attorney's briefcase, filing cabinet, or archived in an offsite warehouse. These paper files made it nearly impossible to quickly reference information on a case, and added a lot of unnecessary manual work to the public defender's already busy schedule. That all changed once NYCDS implemented LegalServer.

"LegalServer has enabled our office to become fully digital and allows our units to work together to the benefit of the client in a way we've never been able to before," says Christopher Boyle, Director of Data Research and Policy at NYCDS.
Each court case has its own LegalServer page, which acts as a digital case folder for the entire defense team to use. These case pages include information on charges, upcoming court dates, case notes from each team member, and relevant case documents. "Lawyers, investigators, social workers, and specialists all have access to case information in LegalServer, some of it in real time, all for the singular goal of zealous advocacy for our clients," Boyle notes.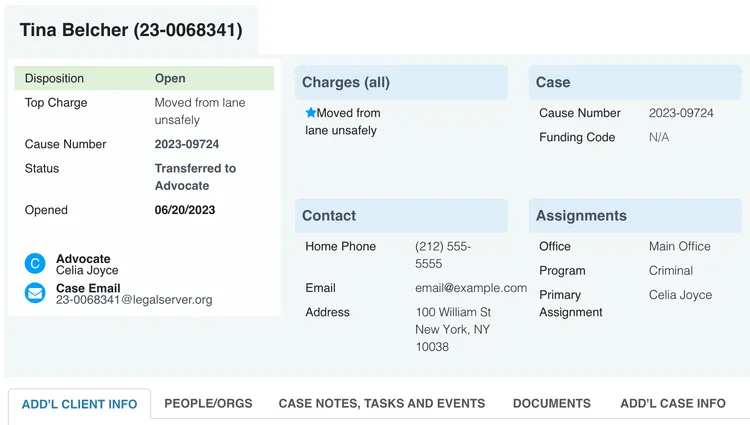 In-house referrals are submitted directly through LegalServer, meaning specialized units such as immigration attorneys and social workers can quickly get up to speed on a case. LegalServer has allowed NYCDS to cultivate true defense teams where caseworkers collaborate, communicate, and continuously have access to the information they need to best serve their clients.
"We've also tailored LegalServer to capture data points that are most important to us for funding, policy work, and informed decision-making in our practice," Boyle says.
"The configurability of LegalServer has greatly expanded the insights that can be gleaned through our case management system. Directors and Supervisors are able to build personalized reports that give a birds-eye view of caseloads, resource allocation, and trends in the criminal legal system in NYC," Boyle adds.
Leveraging LegalServer, NYCDS is saving thousands of hours per year. To see how LegalServer can be a game changer for your public defender office, book a demo now.