April 2017 LegalServer Roundup
National Training!
We still have slots open for our in-person national training on May 2nd and 3rd in Pittsburgh Pennsylvania. View the draft agenda and register now.
If you join us, you will get a sneak peek at this beauty: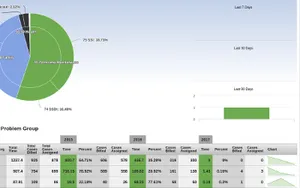 Joining LegalServer
In March we welcomed three new organizations to the LegalServer onboarding process.
Pisgah Legal Services provides assistance to disadvantaged children, seniors, at-risk families and domestic violence victims in western North Carolina.
The National Community Reinvestment Coalition provides trainings, technical assistance, research and policy analysis and resources to member organizations as they expand banking services to low and moderate income communities.
Student Advocacy works with children and families to ensure students needs are met at school, and that students are given the tools to succeed through community services, parental and professional education and advocacy. We are excited to start the process with these agencies.
Going Live
March also saw four new agencies go live on LegalServer. Georgia Heirs PLC, Pennsylvania Community Justice Project, Center for NonProfit Legal Services, and Brooklyn Defender Services. Georgia what? It turns out that low-income rural African Americans across the south are disproportionately hurt by fragmented title issues as a home is passed from one generation to another.
The Community Justice Project, a part of the Pennsylvania Legal Aid Network, works to protect and expand the civil rights of poor families and low-wage workers. CNPLS provides civil legal assistance to low income and elderly residents of Jackson County. The civil practice of the Brooklyn Defender Services works to reduce the collateral consequences of low-income clients involved with the criminal, family or immigration justice systems. Congratulations on all your hard work.
This month, we launch three new groups on LegalServer. The Pennsylvania Health Law Project, a part of the Pennsylvania Legal Aid Network, provides free legal services, education and advocacy to and for Pennsylvania residents who are having issues accessing publicly funded health care. Northwestern Legal Services is also part of the Pennsylvania Legal Aid Network, and provides free legal representation to low income residents in ten counties in northwestern Pennsylvania. Chicago Coalition for the Homeless is an not-for-profit "dedicated to advocating for public policies that curb and can ultimately end homelessness". We are looking forward to working on your Go Live process.
Trainings, Panels and Presentations
National Training!
We still have slots open for our in-person national training on May 2nd and 3rd in Pittsburgh Pennsylvania. View the draft agenda and register now.
Community Presentations
This month, our staff is busy with community presentations and conferences!
You can hear a recording of Jeff presenting on the LSNTAP Baselines Training from April 5th with Brian Rowe, National Technology Assistance Project Coordinator & Lawyer, a program of Northwest Justice Project and Jane Ribadeneyra, Program Analyst for Technology at the Legal Services Corporation.
On April 26th, Xander will be presenting with Anna Steele and Cat Dwyer of Just Tech and Allison Paul of Montana Legal Services Association on the LSNTAP training Can I Work Remotely?.
IV was at the MIE conference in New Orleans. On Thursday, April 6th he joined Glenn Rawdon, Senior Program Counsel for Technology at Legal Services Corporation, Greg Landry, Executive Director at Acadiana Legal Service Corporation and Joshua Goodwin, Managing Attorney, Southeast Ohio Legal Services in the session Emerging Technology and Trends. This session focuses on how "changes in technology impact management and the delivery of services to clients".
IV also participated in the session Managing With Data on April 7th with George Elliott, Director of Administration at Legal Aid of NorthWest Texas and Greg Landry, Executive Director at Acadiana Legal Service Corporation discussing the various ways in which data is used by supervisors and managers as a window into the quantity and quality of the work and services they provide.
Tuesday Trainings
This month we are focusing on Running/Building Reports, Documents & Templates and Grants Management & Advanced Grants Management on our Tuesday Trainings. Advanced Grants management is a paid module, which we usually don't cover during these sessions, but this will be a high level overview of what the built in Grants Management modules does, as well as what can be accomplished by the Advanced Grants Management module. We will also hold our monthly open Q&A session for admins and report builders on the fourth Tuesday of the month.
Additional Platform Trainings
This month we are also offering our Onboarding Essential Features Tour, as well as our New Admin Training on April 4th and April 14th respectively.
Releases
Last month we saw five code releases on the LegalServer platform. This work included:
This is significant for sites using Median Income Scales! Median Income Scales now allow multiple rows for the same time period, like Poverty Scales. Don't confuse this tool with Area Median Income used by HUD-- different animal.
A long-requested feature: if you post a bunch of case notes on the same day, the Case Notes List block now sorts them in the order created
Similarly, timeslips can now be sorted by ID (order created)
For sites with multiple languages enabled, the Note Type lookup values now have text boxes for each language, allowing translation of the Prospective Income Notes label, for example.
Multiple language support added to the Online Intake Adverse Party block.
Improved your ability to import and export very large lookup lists, like giant Special Legal Problem Code lookups And a whole slew of updated Immigration Forms for folks with the Immigration Module.
New on our Help Site
We added a few pieces of documentation to our help site. You can now find information about Immigration Forms, as well as updates to our Send Email Block. We've also added our New User Training is also as a video playlist on our YouTube Channel.