How Public Defenders Use Software to Serve Clients Better
Attorney Patrick Feldman works in a high-volume criminal defense firm in the Pacific Northwest. He handles a number of public defense cases each year, and was frustrated by a lack of specialized tools to help manage those cases - until he found LegalServer.
"We transitioned to LegalServer from another platform used by many public defenders across the U.S.," says Feldman. "There are multiple features built into LegalServer that now allow us to be more efficient in case handling."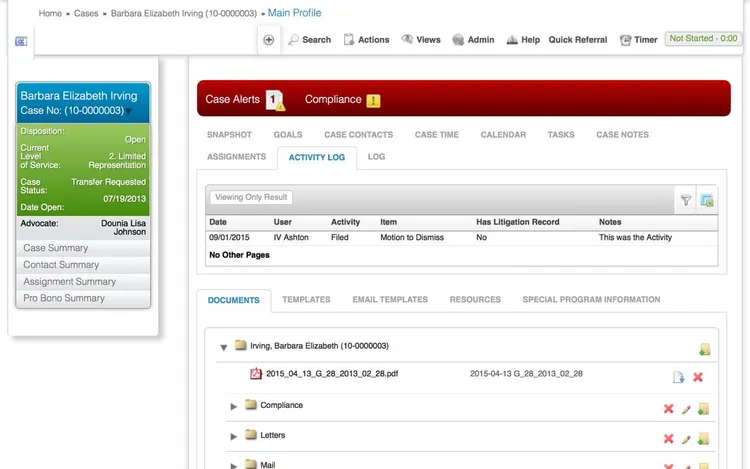 Since adopting LegalServer, Feldman and his colleagues have found it much easier to serve clients - and not just when they're in the office. "With LegalServer's web-based system, we can now obtain and update case information while in court, saving a lot of time in not having to re-type," he adds.
Feldman says correspondence has improved as well. "Built-in email allows us to more effectively capture client communication in case records," he says. LegalServer also includes tools that allow for SMS (text) messages, VOIP telephone, and voicemail integration, along with built-in web messaging.

No two organizations run the same way, so each LegalServer implementation is unique. LegalServer onboarding specialists collaborated with Feldman's team to ensure their requirements were met, resulting in case management software that bends for the user - not the other way around. "Working with the expertise of the LegalServer team to configure the system to our specific needs gives us a platform that is much more usable to how we operate," says Feldman.
Once the configurations were done, trainers walked Feldman and his team through the entire system before going live. While using the software in the wild, support specialists were never far away. "LegalServer staff went above and beyond to make sure we were suitably trained and kept in close contact after we were live to ensure a smooth transition," he says.
With streamlined workflows, easy data access, and better communication, Feldman and his colleagues are saving plenty of time - and that means they can serve indigent clients better. If you'd like to see how LegalServer can transform your public defense operations, please reach out to us.